Chavez's 'comfortable' win raises questions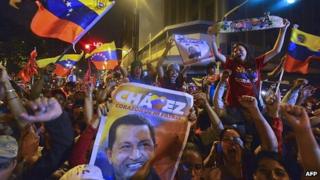 In the end, President Hugo Chavez won a fourth term of office by a comfortable 10-point margin.
Venezuelans chose to stick with his "Bolivarian revolution" that has involved controversial nationalisations and expropriations, as well as the introduction of social programmes known as "missions".
"Chavez won because he gave free education to all, he has given free healthcare, he has given housing to poor people," said one supporter celebrating in the streets of Caracas not long after the results of Sunday's elections were announced.
Many who have benefited from Mr Chavez's attempts to distribute some of Venezuela's oil wealth to the poor will have voted to keep him in power for six more years.
But while Mr Chavez won this election by a clear margin, it is nothing like the landslide result of 2006, when he managed to get almost twice as many votes as his nearest rival.
His acceptance speech was reconciliatory, perhaps mindful of the six million voters who had chosen opposition candidate Henrique Capriles.
"Today we start a new cycle of government, in which we must respond with greater efficacy and efficiency to the needs of our people," he told crowds that had gathered to celebrate outside the Miraflores presidential palace.
"I promise you I'll be a better president."
Big issues
Of particular concern in the run-up to these elections was the issue of insecurity.
Venezuela has one of the highest murder rates in the world and crime affects people at all levels of society in the country.
Likewise inflation, which at over 27% is one the highest rates in the world.
"The main problem this government has is administration," Mark Weisbrot, the co-director of the Centre for Economic and Policy Research, told the BBC.
"[This government] has the capacity to change when they really want to."
Thoughts may also turn once again to Mr Chavez's health. Diagnosed with cancer in 2011, he spent several weeks out of the public eye both last year and at the beginning of 2012 for treatment.
Although he says he has beaten the disease, cancer experts usually monitor patients for several years before they declare them "in remission".
With a fresh six-year term of office just secured, questions are already being asked about a possible successor within Venezuela's United Socialist Party (PSUV) should Mr Chavez become too sick to govern in future.
Vice-President Elias Jaua, Hugo Chavez's brother Adan and Foreign Minister Nicolas Maduro are among those who have been mentioned in the past, but no-one seems to have the charisma and personality that President Chavez does.
"There are several candidates… [Mr Chavez] takes all the important decisions and he's very proud to say that nobody influences him," said Professor Margarita Lopez Maya from Venezuela's Central University.
'Filthy ones'
There are just as many questions for the opposition as they try to pick up the pieces after this election defeat.
They had tried to beat President Chavez by forming a united front - a coalition of parties with a single presidential candidate, Henrique Capriles.
Although he didn't win the election, he did close the gap that had existed between Mr Chavez and his closest rival by almost 20 percentage points.
"Undoubtedly, although this was a defeat, in another way it shows how the opposition has matured," said political analyst Carlos Romero. "This is being seen as the last time Chavez will be able to win. The opposition are catching up."
The coalition must now look ahead to gubernatorial and mayoral elections scheduled for December as their next opportunity to challenge the PSUV.
As Chavez supporters continue to celebrate their win, supporters of Mr Capriles are licking their wounds.
Many of them feel alienated by Mr Chavez's government and the president's disdain for what he calls the "filthy" ones.
"It's very sad, I really thought Capriles was going to win," said one lady in a cafe in an upmarket area of Caracas.
"We are thinking of moving away... there's real hate between the classes now."