Venezuela election: Chavez and Capriles in final rallies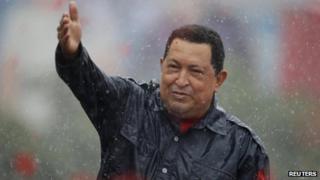 The two candidates in Venezuela's presidential election have addressed huge crowds on the final day of campaigning ahead of Sunday's vote.
President Hugo Chavez told tens of thousands of his supporters in Caracas that he needs another term to consolidate social reforms.
Opposition candidate Henrique Capriles promises to boost economic growth and govern for all Venezuelans.
Nearly 19 million Venezuelans can vote in the tightly contested race.
President Chavez's supporters, dressed predominantly in red, filled the main avenues of the capital, Caracas, from the early hours of Friday.
"Due to the circumstances I must be brief," he said as be began his speech under heavy rain.
Mr Chavez, who has been in power since 1999, told them he needs another term to tackle poverty and inequality in the oil-rich South American country.
"In all these years, we managed to save the country and have built the foundations for the future," he said.
"In six years' time, we will be the first on health and education. In 10 years, there will be no more homeless in Venezuela," Mr Chavez promised.
If he wins the vote and finishes his term, he will have been in power for 20 consecutive years.
"No energy"
Henrique Capriles Radonski, a 40-year-old lawyer and former governor of Miranda state, ended his campaign with a huge rally in the north-western city of Barquisimeto, in Lara state.
Mr Capriles criticised the government's handling of the economy and promised to build schools, roads and create jobs.
"Fourteen years is enough, 20 is too much," he said, adding that the government of Mr Chavez had run out of energy.
Earlier, the opposition candidate met voters in Cojedes and Apure states and said he would govern for all.
"End the divisions, the confrontations and the fights," he said.
This seems to be the tightest presidential race in Venezuela in over a decade, says the BBC's Sarah Grainger in Caracas.
The campaign has been fiercely contested, with strong language being used and accusations traded between the two camps.
Mr Chavez finished treatment for cancer less than six months ago and has reassured supporters that he is cured and fit to serve out his term.