Q&A: Venezuela's presidential election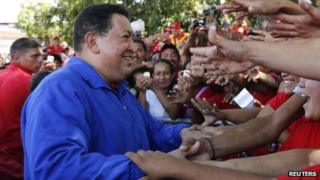 Venezuelans went to the polls on 7 October, electing long-time leader Hugo Chavez over opposition candidate Henrique Capriles.
How significant was this election?
Hugo Chavez, 58, has been in office for nearly 14 years, surviving a coup attempt, protests and several votes on his administration. In 2006, he swept to a convincing victory against a fractured opposition. This time, Mr Chavez, who says he has recovered from cancer, faced a candidate seen as posing a serious challenge.
Henrique Capriles, 40, who has criss-crossed Venezuela during the campaign, was backed by a coalition of more than 30 opposition parties.
What international importance does the election have?
Since first taking office in 1999, President Chavez has been a highly visible, and controversial, figure on the international stage.
He has been a vocal supporter of the governments of Cuba, Iran, Syria and Belarus - and a vocal critic of the US administration.
President Chavez has also courted close business ties with Russia, from which he has purchased military hardware, and China, which has invested substantially in Venezuela.
Venezuela has the biggest certified crude oil reserves in the world, according to Opec.
President Chavez provides subsidised oil to Cuba, Nicaragua and a host of Caribbean nations under the Petrocaribe scheme.
Mr Capriles said he would scrap this scheme, and spend more money on Venezuela's poor.
What are the key differences between Mr Chavez and Mr Capriles?
During his years in office, President Chavez has moved to implement what he calls the "Bolivarian revolution", pursuing socialist policies and nationalising key sectors of the economy.
Venezuela has benefited from the high price of oil over the past decade, allowing President Chavez to step up social spending.
Welfare programmes and redistribution of land and income have brought him fervent support among poorer voters but alienated wealthier Venezuelans.
Mr Chavez draws inspiration from former Cuban leader Fidel Castro, and portrays himself as a bulwark against American "imperialism".
In contrast to President Chavez, Henrique Capriles comes from a wealthy family. A lawyer by training, Mr Capriles became the youngest-ever member of Venezuela's Chamber of Deputies at the age of 25.
He has been mayor of Baruta (a suburb of Caracas) and then governor of Miranda State.
Mr Capriles is a long-time opponent of President Chavez. He was briefly jailed on charges of inciting a protest near the Cuban embassy during a short-lived coup attempt in 2002; he was subsequently acquitted.
Mr Capriles is a free market advocate, who argues that years of Mr Chavez's socialist rule must be reversed by facilitating private enterprise and investment. He promises, however, to maintain President Chavez's social programmes.
Mr Capriles has described Brazil as model of development, and said he aspired to emulate former Brazilian President Luiz Inacio Lula da Silva.
What was the campaign like?
Campaigning was highly charged and there was some violence. A week before polling, three opposition campaigners were killed at a Capriles rally.
President Chavez highlighted the increased spending on welfare. His popularity was boosted by frequent and widely publicised events where he launched government-funded infrastructure projects.
Mr Chavez made the most of his unlimited access to the media. Under Venezuelan law, all terrestrial media must broadcast Mr Chavez' official speeches. He also hosts a weekly TV and radio programme which can also last for many hours.
His opponents, meanwhile, were only allowed three minutes of pre-recorded TV campaigning a day.
During the broadcasts and election rallies alike, Mr Chavez does not mince his words, describing his opponent as a "loser" and opposition supporters "the squalid ones".
Henrique Capriles conducted high-energy door-to-door canvassing. His relative youth has been key to his campaign, which has involved much jogging and many basketball games. He even jogged to an electoral office to register as a candidate.
Mr Capriles has accused President Chavez of using state resources against him, and said he was fighting a David-and-Goliath battle against the incumbent.
BBC Monitoring reports and analyses news from TV, radio, web and print media around the world. For more reports from BBC Monitoring, click here