Colombia's President Santos has prostate cancer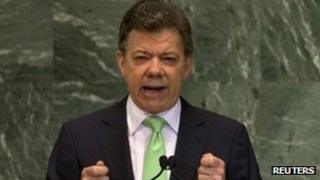 Colombia's President Juan Manuel Santos has announced he has prostate cancer and will have surgery on Wednesday.
Mr Santos, 61, says the tumour has been detected early and estimates his chances of recovery at 97%.
The announcement comes a week before the government enters landmark peace talks with Farc rebels to try to end nearly five decades of conflict.
Mr Santos, who took office in August 2010, is the latest Latin American leader to be diagnosed with cancer.
Others have included Dilma Rousseff of Brazil, her predecessor Luiz Inacio Lula da Silva, Venezuela's Hugo Chavez, as well as former Presidents Fernando Lugo of Paraguay.
The BBC's Arturo Wallace in Bogota says Mr Santos' announcement took Colombians by surprise, shortly before the start of peace talks with the left-wing Farc.
"I have carried out all the routine exams recommended by the doctors, and there has been an abnormal growth of the prostate specific antigen," the president said in a statement.
He said the surgery would only require local anaesthetics, so he would not be delegating any responsibilities.
"With God's help, this will turn out to be only one of those challenges we all have to face in life," he added.