Venezuela election: Opposition trio die at poll rally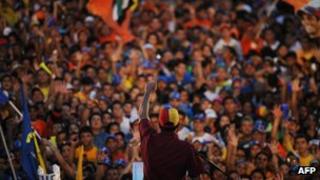 Three Venezuelan opposition activists have been killed during a campaign rally, a week before presidential elections.
Opposition candidate Henrique Capriles demanded justice, saying the activists' deaths should never have happened.
Mr Capriles' First Justice Party said they were campaigning in Barinas state on Saturday when gunmen shot them.
Witnesses said the gunmen fired from a van belonged to the state oil company, but there was no confirmation of this.
'Angels in heaven'
The three were named as Jason Valero, Omar Fernandez and Hector Rojas.
"Yesterday, sadly, violence took three lives, something that should never have happened," Mr Capriles told a rally of tens of thousands of people in Caracas on Sunday.
"I want to tell their families, and those angels in heaven, that we are going to defeat violence on 7 October."
An initial statement by the First Justice Party on Saturday night reported two deaths.
It said a rally had been planned in Barinas, President Hugo Chavez's home state, on Saturday but the road was blocked by government supporters.
When Mr Valero and Mr Fernandez left their car to try to gain access, they were fired on by gunmen inside a van, it said.
"This tragedy gives us more strength and faith to fight for a Venezuela where justice and non-violence reign," the First Justice Party said.
Justice Minister Tareck El Aissami said in a message on Twitter that a suspect in the killings had already been arrested.
Fear of violence
Mr Chavez and Mr Capriles are wrapping up their campaigns over the next few days ahead of the 7 October elections.
There have been other incidents of violence on the campaign trail. Supporters of both candidates threw stones at each other earlier this month when Mr Capriles attempted to march through the city of Puerto Cabello.
And four people were injured in a shooting that erupted during a voting rehearsal at the beginning of September.
With violent crime a key concern for voters, the BBC's Sarah Grainger, in Caracas, says there are fears that further violence could erupt in what has become Venezuela's closest fought election in over a decade.
Mr Chavez has been in power since 1999, but was diagnosed with cancer last year.
More than 30 opposition parties have backed a single candidate, Henrique Capriles, to challenge the leftist president.