Rival Bolivia miners end tin and zinc dispute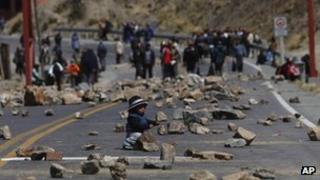 Rival miners' groups in Bolivia have signed a deal with the government to end a dispute over control of rich tin and zinc deposits.
The dispute centred around the Colquiri mine, once operated by Swiss company Glencore, which was expropriated by the government in June.
Groups of public and private sector miners have clashed over who should run the mine ever since.
Earlier this month, the clashes escalated, leaving one protester dead.
The miner died when rival groups threw dynamite charges at each other in street battles in the centre of La Paz.
Months of marches and protests over the mine have paralysed parts of Bolivia for days at a time, cutting off access routes to the seat of the government.
Bolivia's Government Minister, Carlos Romero, said he was pleased that the two groups had finally reached a compromise.
"We are signing an agreement that I think is historic, because it's ending one of the most significant and complicated conflicts that we've had to deal with in the last few years," he said.
The Rosario vein at the Colquiri mine, located some 160km (100 miles) south of La Paz, will now be split into seven smaller sections, and miners from both sides will be able to exploit them for minerals.
Thousands are employed by the mining sector in Bolivia and the country depends heavily on exporting natural resources.