Nicaraguan music promoter Henry Farinas guilty of money laundering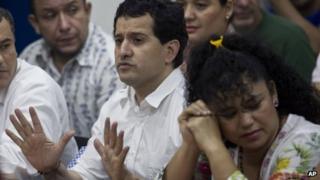 A judge in Nicaragua has found music promoter Henry Farinas and 21 other people guilty of money laundering, organised crime and drug trafficking.
They had links with gangs trafficking cocaine in Central America, prosecutors said.
The authorities believe Mr Farinas, who pleaded not guilty, was the target of an attack that killed singer Facundo Cabral in Guatemala last year.
Facundo Cabral was one of Latin America's most respected folk singers.
He was in Guatemala for a concert and had no involvement with criminal gangs.
Facundo Cabral and Henry Farinas were being driven to the Guatemala City airport on 6 August 2011 when their car was ambushed.
The singer died at the scene and Mr Farinas was taken to hospital, seriously injured.
A few days afterwards, Guatemalan authorities said Mr Farinas was the likely target of the attack.
He was arrested and extradited to his native Nicaragua, where his alleged links with drug gangs in the region were investigated.
Twenty-four people were formally charged, accused of gang involvement and tried in the Nicaraguan capital, Managua.
Two were acquitted and 22 found guilty. Their sentences are due to be announced next month.
Henry Farinas pleaded not guilty in court said he hoped God would guide the judge's decision.
Folk hero
The attack in Guatemala was carried out by gunmen hired by Alejandro Jimenez, a Costa Rican associate in their criminal gang, prosecutors say.
Alejandro Jimenez probably thought he had been betrayed by Mr Farinas, according to Nicaraguan prosecutors.
The death of Facundo Cabral, who was 74, caused dismay and outrage in his native Argentina and throughout Latin America.
His most famous song was No Soy de Aqui ni Alla (I'm Not From Here or There), which was recorded in a number of languages.
"What pain! We cry with Argentina and all of our great fatherland," tweeted President Hugo Chavez of Venezuela.
Alvaro Colom, who was then president of Guatemala, said he was "dismayed by this cowardly act" and decreed three days of mourning.
Facundo Cabral's body was taken back to Argentina, where he became famous in the early 1970s as a protest singer.