Peru's coca cultivation increases again, says UN study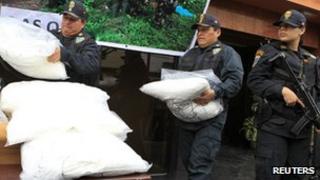 Peru's cultivation of coca - the raw ingredient for cocaine - has risen for a sixth consecutive year, the UN Office on Drugs and Crime (UNODC) said.
A new report shows 62,5000 hectares of land were planted with coca last year - at least 2% more than in 2010.
UNODC spokesman Flavio Mirella said some coca farmers had as much as doubled their crops along the borders with Brazil and Bolivia.
An earlier study showed Bolivian coca production fell by 12% in 2011.
Although Peru's overall increase was slight, the survey confirms that coca cultivations were expanding into areas.
"If you were to load all of that coca leaf onto trucks, you would require 10,000 lorries with the capacity of 12 metric tonnes. That's a large amount of coca going straight to drug trafficking," Mr Mirella told the BBC's Mattia Cabitza.
Cocaine demand
Efforts by the Peruvian government to promote alternative cash crops, such as coffee, were showing positive results in Peru, Mr Mirella said.
But more regional cooperation and a significant decline in cocaine demand - particularly in Europe and the United States - were still needed to have any real impact on Peru's anti-drug fight, says the UNODC spokesman in Lima.
While the survey did not indicate how much cocaine could actually be made in Peru, the country is considered one of the world's top producers of the illicit drug, alongside its Andean neighbours Bolivia and Colombia.
A UNODC report released in mid-September assessed that Bolivia's area under coca cultivation had dropped from 31,000 hectares in 2010 to 27,000 hectares in 2011.
Meanwhile, a recent White House report assessed that Colombia's pure cocaine production had fallen 25% in 2011, and 72% since 2001.