Uruguay Congress votes to legalise abortion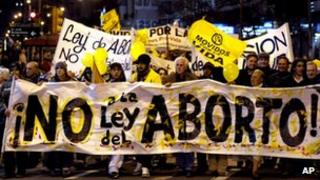 The lower house of Uruguay's Congress has voted to legalise abortion in the first 12 weeks of pregnancy.
The bill was approved by 50 votes to 49 after 14 hours of debate.
The law must now be approved by the Senate, which voted for a previous version of the text last December. President Jose Mujica has said he will approve the law if passed by Congress.
Cuba and Mexico City are the only other parts of Latin America with comparably liberal abortion laws.
Most countries in the region - where Roman Catholicism is a dominant force - allow abortion only in cases of rape, when the woman's life is in danger or if the foetus is severely deformed.
Under Uruguay's current legislation, women who have an abortion and the people who assist them face prison.
Abortion is only allowed in the case of rape or when the life of the woman is in danger.
The new legislation would allow abortion at the request of the woman, after she has spoken to a panel consisting of a doctor, a psychologist and a social worker who would inform her of any risks and of alternatives such as adoption.
The woman would then have to wait five days before going ahead with the procedure.
A similar law was debated and approved by Congress in 2008 but was vetoed by then President Tabare Vasquez.
Opinion polls suggest that a majority of Uruguayans support legalisation of abortion.