Colombia jails Farc website editor Perez Becerra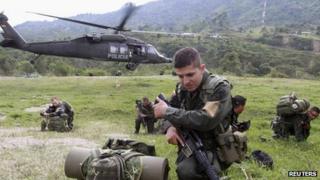 The editor of a Swedish-based website linked to Colombia's main rebel group, the Farc, has been sentenced to eight years in jail for conspiracy.
Prosecutors in Colombia said Joaquin Perez Becerra, known as the Farc spokesman in Europe, had worked for the organisation from Sweden since 1993.
Mr Perez Becerra denies having any connections with the left-wing rebel group.
The Anncol website publishes news, interviews and Farc statements.
Mr Perez Becerra, also known as "Alberto Martinez", was arrested in April 2011 in Venezuela, as he returned to Colombia from Sweden.
He was then handed over to the Colombian authorities, who have kept him at Bogota's Modelo prison.
Prosecutors accused him of "setting up links with left-wing and terrorist organisations to raise organisation for the guerrilla group" in the South American country.
Last week, a judge in Bogota acquitted "Alberto Martinez" of charges of terrorism financing.
But he was found guilty of conspiracy and sentenced to eight years' imprisonment.
The Revolutionary Armed Forces of Colombia, or Farc, has recently agreed to hold peace talks with the government for the first time in a decade.
Negotiators will meet for initial talks in Oslo on 8 October.
The negotiations are expected to carry on in the Cuban capital, Havana, aimed at ending the bloody 48-year-long conflict.