Bolivia sees fall in coca production, says UN report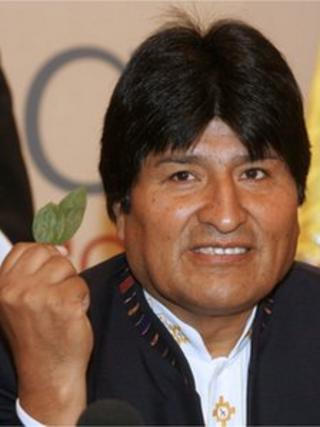 The United Nations says the production of coca leaves - the raw ingredient for cocaine - in Bolivia has dropped significantly over the last year.
The area used for cultivation of coca in the South American country is down by 12%, according to a report by the UN Office on Drugs and Crime.
This is the first such drop since President Evo Morales, a former coca producer, came into power in 2006.
The production of coca in small amounts is legal in Bolivia.
The leaves have been used for many centuries as a mild stimulant and to counteract the effects of the high altitude in the Andes.
The production of cocaine is illegal in the country.
'No moral authority'
The annual UNODC report says that the area under coca cultivation dropped from 31,000 hectares in 2010 to 27,000 hectares.
Bolivia's Foreign Minister David Choquehuanca said the findings showed that his country was unfairly criticised after it ended anti-drug cooperation with the United States in 2008.
"Many people thought that, with the departure of the DEA (Drugs Enforcement Agency), coca cultivation in Bolivia would rise," said Mr Choquehuanca.
"But thanks to the determination of the Bolivian government, and the support of the international community, today we are showing concrete results."
However, Bolivia remains one of the world's main producers of cocaine in the world, alongside its Andean neighbours Peru and Colombia.
Mr Morales often blames consumption in the West for fuelling cocaine production in the Andes.
The BBC's Mattia Cabitza says that is why the president recently said the US has no "moral right or authority" to talk about the fight against drug trafficking.