Nicaragua frees US citizen Jason Puracal after appeal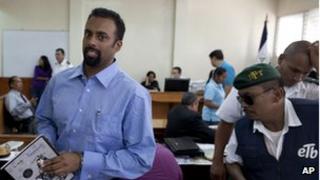 A US national who spent two years in prison in Nicaragua has been freed and allowed to leave the country, a spokesman for his family says.
Jason Puracal was found guilty of drug trafficking and money laundering in 2011 and sentenced to 22 years in jail.
Human rights groups had long maintained his prosecution had been unjust.
On Wednesday, an appeals court ordered his release, arguing that his defence had not been allowed to introduce evidence in his favour.
Mr Puracal, 35, had been living in Nicaragua since serving as a Peace Corps volunteer there in 2002.
His family said he had been working as an estate agent and had come under suspicion for handling large sums related to property purchases, which police mistakenly believed came from illicit sources.
Prosecutors argued that he used the property purchases as a front to launder drugs money. Last year he and 10 Nicaraguan co-defendants were found guilty and handed long sentences.
After pressure from US officials and the United Nations Working Group on Arbitrary Detention, an appeals court opened a hearing into the case.
On Wednesday, it ruled that the judge had stopped defence lawyers from introducing crucial evidence, and ordered the release of all the defendants.