Mexico's 'Queen of the Pacific' denies drugs charges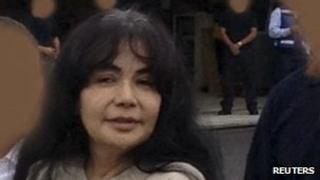 A Mexican woman accused of setting up some of the first drug smuggling routes from Latin America to California along the Pacific Coast has pleaded not guilty in a US court.
Sandra Avila, better known as "Queen of the Pacific", denied charges of cocaine possession and distribution.
Arrested in Mexico in 2007, she was extradited to Florida last month.
Prosecutors accuse her of having played a major part in the build up of the Sinaloa drug cartel in the 1990s.
They say she co-ordinated, stored and moved large shipments of cocaine from Mexico into the US.
Police say Ms Avila has close ties to infamous drug dealers, such as her uncle Miguel Angel Felix Gallardo, known as The Godfather, who is serving a 40-year prison sentence in Mexico for drug-related crimes.
She is also suspected of having built up links between the Sinaloa cartel in Mexico and the now-defunct Norte del Valle cartel in Colombia.
Ms Avila has denied any wrongdoing, firmly maintaining that she made her fortune selling clothes and renting property.
In February 2011, the director of the prison where she was being held in Mexico was sacked after it emerged that a doctor had been allowed into her cell to give her botox injections.