Mexico 'Zetas leader' Rejon Aguilar extradited to US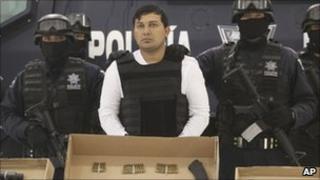 Mexico has extradited an alleged founder member of the powerful Zetas drug cartel to the United States.
Jesus Enrique Rejon Aguilar is accused of smuggling large quantities of marijuana and cocaine to the US.
The US Drug Enforcement Administration (DEA) had offered a $5m-reward for information leading to his capture.
He was arrested by Mexican police last year in Atizapan de Zaragoza, in Mexico state, while he was on his way to visit his mother.
Mr Rejon Aguilar, also known as El Mamito, is alleged to be the third in command of the Zetas, a drug gang formed by former Mexican special forces soldiers.
He was handed to DEA officers at Toluca airport on Tuesday.
Security officials said Mr Rejon Aguilar was arrested in July 2011 "without a shot being fired".
He had been a member of the Mexican special forces but deserted in 1999, the officials said at the time of his arrest.
He is suspected of being one of the 14 founding members of the Zetas, a group originally created as the armed wing of the Gulf drug cartel.
In 2010, the Zetas and the Gulf cartel broke their ties and became bitter rivals in their fight for control of the lucrative smuggling routes from north-eastern Tamaulipas state to the US.