Bolivia miners block access to La Paz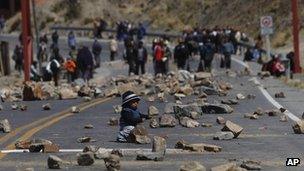 Road access to Bolivia's main city, La Paz, has been blocked off by miners demanding that the government hand over part of a tin and zinc mine.
Hundreds of miners belonging to a private co-operative blocked the three main highways leading into La Paz.
The Colquiri mine, which used to belong to Swiss company Glencore, was expropriated by the government in June.
Various mining groups have been arguing over who should run it ever since.
Police say they seized dynamite from the opposing groups, which they feared were heading for a clash.
Officials said the miners had cut off the road leading from La Paz to Chile, as well as those leading to Peru and the northern Yungas region.
A spokesman for the protesters, Simon Condori, said they would "stay at the three blockades until a positive result for the (private) co-operative is reached".
The group says the government agreed to hand over the richest vein in the Colquiri mine.
A rival group employed by the state-run Bolivian Mining Corporation (Comibol) wants the government to run the whole of the mine and to ban other groups from mining it.
A union leader for the Comibol group, Severino Estallani, said 5,000 of its members were heading for La Paz to make their demands heard.
The opposing groups crossed paths during their marches in La Paz on Tuesday and traded insults.
Interior Minister Carlos Romero called on both groups to keep their demonstrations peaceful.
"Both have to accept that they have to work together, they can't deny each other's rights and exclude each other as if they were irreconcilable enemies," Mr Romero said.
He called on the groups to enter into negotiations with the government.
Related Internet Links
The BBC is not responsible for the content of external sites.