Nicaragua's San Cristobal volcano forces mass evacuation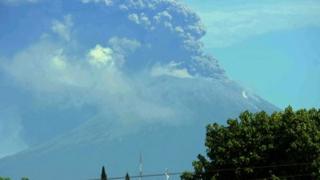 The Nicaraguan government says about 3,000 people are being evacuated from areas near the San Cristobal volcano, which is spewing ash and gas.
Soldiers have been sent to the region, northwest of the capital Managua, after the government ordered local communities to leave.
The volcano began erupting on Saturday morning, shortly after powerful explosions were heard.
The authorities say they expect more gas emissions and sporadic explosions.
Some 20,000 people could eventually be affected, said government spokeswoman Rosario Murillo.
'Strong activity'
The 1,745-metre volcano (5,700-foot) is the highest mountain in Nicaragua and one of the most active along the Pacific Coast of Nicaragua.
It has launched a 4km-high (2.5-mile) column of ash and smoke into the atmosphere.
Jaime Mejia, from Nicaragua's Institute of Territorial Studies, said there was "strong activity" in the volcano, which had a series of small eruptions in 2008.
"We do not rule out anything, but call for calm," he told the AP news agency.
Civil defence officers have been sent to the Chinandenga and Leon provinces to help the evacuation.
But hundreds of residents left the area even before their arrival.
Nicaragua has been on alert since an earthquake hit neighbouring Costa Rica last week.
Aftershocks were felt across the two Central American countries.