Colombia's President Santos rejects Farc ceasefire call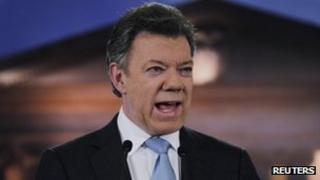 Colombian President Juan Manuel Santos has rejected calls by Farc rebels for a ceasefire once peace talks begin with the government in October.
"We will not give anything until we get the final agreement," Mr Santos said.
He was speaking after the left-wing rebels said they were prepared to disarm and would seek a truce when the peace talks opened in Oslo, Norway.
The ground-breaking talks - the first direct negotiations in a decade - are then expected to move to Cuba.
"There's not going to be any ceasefire," President Santos said at a military base in central Colombia.
He stressed that his government would not "lower its guard in terms of security".
Mr Santos added that he did not want to "repeat the mistakes of the past" - an apparent reference to the failed peace talks in 2002, which reportedly gave time to Farc (The Revolutionary Armed Forces of Colombia) to regroup.
Government military operations against the rebels are continuing, with the authorities saying that a top Farc commander had been killed in an air strike.
'Symbol of dignity'
The president was speaking shortly after high-ranking Farc commander Mauricio Jaramillo said the rebels were "fully committed" to a process that could culminate in the surrender of arms and the demobilisation of forces.
But he added: "We're going to propose a ceasefire immediately when we sit at the table. We have always wanted peace."
Mauricio Jaramillo - known as "the doctor" - denied the Farc was involved in drug trafficking and also declared the group was no longer in the business of kidnapping.
He said that Ivan Marquez and Jose Santrich would be among those representing the Farc, with others to be announced later.
Ivan Marquez is on the group's six-person ruling secretariat, while Jose Santrich is a second-tier leader, reports said.
The rebel commander confirmed that the Farc was also seeking the inclusion of two members in jail in the US - Simon Trinidad and his partner Sonia - on its negotiating team.
Simon Trinidad - real name Ricardo Palmera - was given a 60-year sentence in 2008 in connection with the kidnapping of three US intelligence operatives in 2003.
"Simon Trinidad is the symbol of dignity of the people's fighters of our America" who had been imprisoned "simply for their political position", Mauricio Jaramillo said, according to Colombian news site El Heraldo.