Argentina's 'miracle' baby Luz Milagros leaves hospital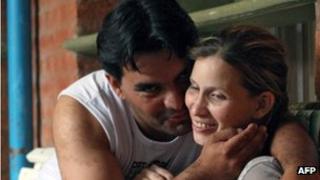 A baby girl found alive in a morgue in Argentina hours after being declared dead has gone home for the first time.
The five-month-old Luz Milagros, or "Miracle Light", is in a stable condition but still uses a tube for feeding and breathing.
Mother Analia Boutet and her husband had been told the premature baby was stillborn on 3 April.
But when they went to a refrigerated morgue 12 hours later, they found the little girl trembling in the coffin.
The baby was born in the north-eastern city of Resistencia - three months before the due date and weighing only 780g (1.7lb).
Name change
Luz Milagros left the hospital in her mother's arms on Friday and arrived home for the first time in the nearby town of Fontana.
The baby earlier spent 10 weeks recovering in a hospital in Buenos Aires and then at a specialist unit in Resistencia.
Doctors, however, warn that she remains fragile and will continue to need medical assistance.
Back in April, Mrs Boutet described the moment she found out her daughter was still alive: "I moved the coverings aside... and I touched her hand and then uncovered her face. That's where I heard a tiny little cry".
"I fell to my knees. My husband didn't know what to do. We were just crying and I laughed and cried, cries and laughter."
The parents had planned to name her Lucia Abigail, but decided to change the name after the baby's "miracle" survival.