Mexico drugs: Acapulco 'cartel leader' Juan Diego seized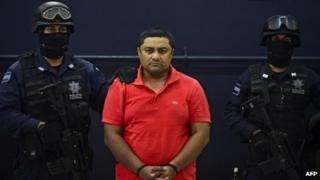 Mexican police have arrested one of the alleged leaders of the Independent Cartel of Acapulco, Jose Quiroz Perez - known as Juan Diego - accused of killing at least 18 people this year.
Authorities say the drugs cartel is behind a spate of kidnaps and armed attacks in public areas, causing panic in a major tourist destination.
The cartel is also accused of extortion against businessmen and shop owners.
Eleven other suspected members of the drug cartel were also arrested.
Juan Diego and his group are accused of dumping the mutilated bodies of kidnapped rival gang members in some of the beach resort's central areas.
Messages with threats to rival gangs were left alongside the bodies.
Ramon Pequeno, head of the Federal Police's Anti-Drugs department, said Juan Diego began recruiting members from a rival gang - La Barredora - after the arrest of its leader in 2010.
In less than two years, Juan Diego's group managed to take control of most criminal operations in Acapulco - in Mexico's southern Pacific coast - and the nearby cities of Costa Chica and Guerrero, Mr Pequeno said.
The 12 suspects were arrested on Thursday with guns, vehicles and 150 bags of a white powder the police believe to be cocaine.
They were paraded before the media at the Federal Police headquarters in Mexico City.