Colombia names team for talks with Farc rebels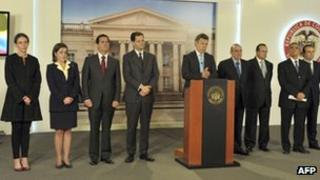 Colombian President Juan Manuel Santos has named the government team which next month will hold the first direct talks in a decade with Farc rebels.
The delegation will be led by former Vice President Humberto de la Calle.
The guerrillas are due to hold a news conference in the Cuban capital, Havana, later on Thursday.
Mr Santos has stressed that there will be no ceasefire and on Wednesday officials said a top Farc commander had been killed in an air strike.
Defence Minister Juan Carlos Pinzon said a rebel known by the alias "Danilo Garcia" and at least two others were killed in a joint operation by the air force, police and army.
Danilo Garcia, whose real name was Jose Epimenio Molina, was a close ally of the Farc leader Timochenko, Mr Pinzon said.
The military assault near Colombia's border with Venezuela provoked a landslide and more bodies could be recovered, the minister added.
Details of the attack emerged on the same day as Mr Santos named the delegation that will hold talks with the Farc.
They are:
Humberto de la Calle - former vice president and interior minister
Luis Carlos Villegas - business leader
Gen Oscar Naranjo - former national police chief
Gen Jorge Mora Rangel - former head of the armed forces
Frank Pearl - former environment minister
Sergio Jaramillo - new peace commissioner
Several negotiators involved in reaching the initial agreement to begin talks would also continue to play a role, Mr Santos said.
"It's a team with ample experience and a great desire to move things ahead in a serious and effective way," Mr Santos said.
'Security strengthened'
It is expected that the Farc will give details of their negotiating team at a news conference due to take place in Havana at 15:00 GMT.
The talks are scheduled to be officially opened in the Norwegian capital, Oslo, at the beginning of October, after which they will move to Cuba.
The last attempt to end the five-decade-old conflict ended in failure 10 years ago.
Under Mr Santos's predecessor, Alvaro Uribe - in power between 2002 and 2010 - the Colombian government refused to hold talks with the Farc.
Speaking to BBC Mundo, Mr Uribe again voiced harsh criticism of his former ally.
"The first difficulty I see it that this dialogue is beginning with security already weakened, the state weakened and terrorism resurgent," he said.
Without referring to Mr Uribe by name, President Santos reiterated that military operations would not end until there were real advances towards peace.
"Let no one tell us we are weakening security, when the only thing we have done is strengthen it," he said.