Chile ex-police chief Contreras sentenced for murder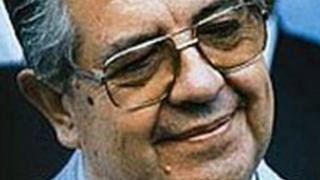 A judge has sentenced the head of Chile's secret police during the rule of Gen Augusto Pinochet to 15 years in prison for the murder of an opposition activist.
Gen Manuel Contreras, 83, was found guilty of the murder of Ramon Martinez, a 23-year-old left-wing activist who died in police custody in 1975.
He had been shot and tortured.
Gen Contreras is already in prison for kidnapping and murder with sentences totalling more than 200 years.
Judge Alejandro Solis also sentenced former secret police officers Brig Miguel Krasnoff Marchenko, Col Marcelo Moren Brito, Col Fernando Lauriani Maturana and Col Mario Jahn Barrera for the murder of Martinez.
They were given 15 years in prison each. All of them are already in jail serving sentences for other crimes.
'Beaten and bruised'
Ramon Martinez, a member of the Revolutionary Leftist Movement (MIR), was stopped by police on 6 January 1975 as he was on his way to meet a fellow left-wing activist.
He resisted arrest and was shot before being taken to the notorious Villa Grimaldi detention centre.
Fellow detainees described seeing Martinez in Villa Grimaldi "in a monstrous state".
One witness said "there was no part of his face which wasn't blue and bruised, his body was a mass of rags, dirt and blood".
Seven days after his arrest, the body of Martinez was handed to the Forensic Legal Service, which said he had died as a result of gunshot wounds.
More than 3,000 people disappeared or were killed during Gen Pinochet's rule, which ended in 1990.