Peru Shining Path rebel Comrade Williams killed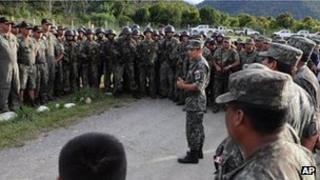 A major figure in the Shining Path rebel movement has been killed, says Peru's President Ollanta Humala.
Mr Humala said the rebel known as Comrade Williams was killed by the security forces in a jungle clash.
He said Comrade Williams was a sharpshooter who had taken part in a 2009 ambush in which 14 soldiers died.
The government says it has defeated the Shining Path in their main stronghold but remnants of the Maoist group remain in Peru's coca-growing heartland.
Local media said Comrade Williams was among the top three in the Shining Path's military structure, responsible for many attacks on Peru's police force and its military.
More than a dozen members of the security forces have been killed in clashes with the rebels so far this year.
The Shining Path, or Sendero Luminoso, started a decade-long insurgency in 1980, in which almost 70,000 people were killed.
Its remnants are now thought to be allied with drug traffickers in the Ene-Apurimac valley in southern Peru.