Colombia and Farc rebels chart course for peace talks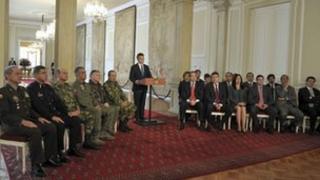 Colombian President Juan Manuel Santos and Colombia's largest rebel group, the Farc, have laid out details of their planned peace talks.
In a televised address, Mr Santos said there was "a real opportunity to end the conflict".
Farc leader Rodrigo Londono later issued a video message saying the rebels would continue to negotiate until peace had been achieved.
The talks are to begin in Norway next month and then move to Cuba.
Flanked by the commanders of the armed forces and the police, President Santos asked Colombians to give the peace process a chance.
He said that as president, he could not let pass an opportunity to end the 48-year-old conflict, "especially in light of the millions of people who had suffered".
Mr Santos said the peace process would not be easy.
In a reference to the last round of negotiations which ended in failure 10 years ago, he stressed that there would be no ceasefire and no safe haven for the rebels this time.
From Oslo to Havana
Half-an-hour after the president's address, the Revolutionary Armed Forces of Colombia (Farc) showed journalists assembled in the Cuban capital Havana a video message from their leader, Rodrigo Londono, better known as Timochenko.
Also referring to the failed peace talks a decade ago, Timochenko asked how many deaths the government had been willing to incur before it was ready to re-open negotiations.
He insisted peace could only come about as a result of "true reconciliation" and with the participation of all sectors of society.
Timochenko said that neither he nor President Santos held the key to peace, but that the people did.
While President Santos had pointed out in his address that the government would regularly assess the negotiations and pull out if they were stalling, Timochenko said his team would not "get up from the negotiating table until peace had been achieved".
Timochenko then listed the names of Farc leaders who have died or been killed since the conflict began in 1964.
Under Mr Santos' predecessor, Alvaro Uribe - in power between 2002 and 2010 - the Colombian government refused to hold talks with the Farc.
The fresh talks are scheduled to be officially opened in the Norwegian capital, Oslo, at the beginning of October, after which they will move to Havana, in Cuba.
US President Barack Obama welcomed the announcement and hailed the "courage and sacrifice of successive Colombian governments - and most especially of the Colombian people - in achieving this milestone".
Since 2000 the US has spent $6bn (£3.8bn) on Plan Colombia, an initiative to help the Colombian government combat drug trafficking and terrorism.
Plan Colombia has been criticised by human rights groups who say Colombia's rebels have been disproportionately targeted in Plan Colombia, though it is right-wing paramilitaries who have been most involved in drug-trafficking.