Honduran police find five mutilated bodies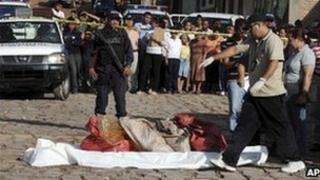 Police in Honduras have found the bodies of four teenage girls and one young man dumped in rubbish bags in the port city of La Ceiba.
Officials said the five victims had their throats cut and showed signs of torture.
The killing comes just a day after the mutilated bodies of three people were found in the capital, Tegucigalpa.
Honduras has the world's highest murder rate but the brutality behind these latest killings has shocked Hondurans.
Police spokesman Jose Lainez said the bodies had been found by residents on Saturday.
Forensic experts said the victims were between 16 and 24 years of age. They have not yet been identified.
Their hands and feet had been tied and their bodies had deep puncture wounds.
Officials said they suspected they were not from the area as the local community had not been able to identify them.
President Porfirio Lobo last year deployed hundreds of troops to fight violent crime.
Honduras is a major transit point for cocaine smuggling from South America north through Mexico to the US, and much of the violence is linked to drugs gangs.