Brazil public sector strike is called off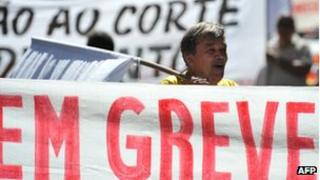 Most of the public sector workers in Brazil who had been taking part in one of the country's largest ever industrial disputes, have called off their strike.
The government said the majority of public workers had accepted the offer of a 15.8% pay rise over three years.
The federal police and tax inspectors, among others, rejected the deal.
The strike came at a critical time for President Dilma Rousseff, who is releasing the budget on Friday.
Brazil's Planning Ministry said agreement had been reached with workers from 30 out of 35 different government departments and public bodies, ranging from teachers to motorway police officers.
The protests had started in May, when teachers stopped working, demanding higher pay and better career prospects.
They were joined by other state employees, resulting in as much as half the total public workforce being on strike.
BBC Brasil's Luis Barrucho in Sao Paulo says the strike actions caused disruption on Brazil's roads, in public hospitals and at ports and airports.
Our reporter says it also strained traditionally strong relations between the trade unions and the governing Workers' Party, and placed growing pressure on President Rousseff's administration, just weeks ahead of important local government elections.
The government said that it would restart negotiations with the unions which rejected the deal.