Fires at Venezuela's Amuay refinery 'extinguished'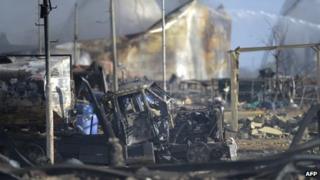 Firefighters have extinguished three oil tank blazes burning since Saturday at Venezuela's biggest refinery, Energy Minister Rafael Ramirez says.
But witnesses reported further flames at the Amuay refinery, indicating the fires are not yet spent.
The fires were sparked by an explosion that left 48 people dead and dozens injured, making it one of the deadliest oil industry accidents in recent years.
Venezuelan President Hugo Chavez has pledged a fund for clean-up operations.
The fires had been completely extinguished, Mr Ramirez said on Tuesday morning.
But a short while later witnesses reported seeing more flames.
Nestor Reverol, deputy minister for public safety, told the AFP news agency the fire in one of the storage tanks was in its "last phase".
"A few minutes ago the tank was out. Now what we are seeing is that remnants of fuel are burning and by noon it will be out," said Mr Reverol.
The Amuay refinery, which is part of the Paraguana Refinery Complex, is capable of refining 645,000 barrels of oil per day.
On Monday, Energy Minister Rafael Ramirez predicted that the facility would be able to resume operations on Friday.
Investigators have yet to determine the precise cause of the blast but government officials have pointed to a gas leak.
President Chavez has said there is no evidence the explosion was the result of poor maintenance.
This view was challenged by the main opposition candidate in October's forthcoming presidential election, Henrique Capriles, who said government inefficiency under Mr Chavez was to blame.
"When things aren't done properly, with responsibility, then you have to prepare for the consequences," he said.
Mr Capriles and other critics of Mr Chavez's government have said that under-investment by the state oil company, PDVSA, has led to a decline in production and safety standards.
Half of those who had died in the incident were members of the National Guard who had been protecting the refinery. More than 30 people remain in hospital.
On Monday, Mr Chavez said he was creating a $23m (£14.5m; 18.4m euros) fund to help cover the costs of clean-up operations and replace more than 200 homes nearby which were damaged.