Colombia profile - Overview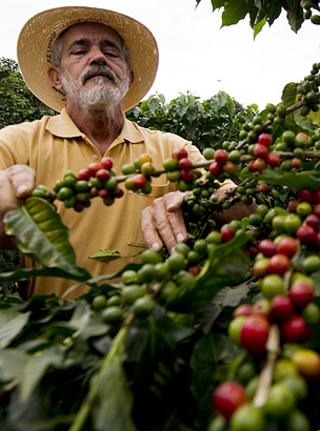 Full name: Republic of Colombia
Population: 47.5 million (UN, 2012)
Capital: Bogota
Area: 1.14 million sq km (440,831 sq miles)
Major language: Spanish
Major religion: Christianity
Life expectancy: 70 years (men), 78 years (women) (UN)
Monetary unit: 1 Colombian peso = 100 centavos
Main exports: Petroleum, coffee, coal, gold, bananas, cut flowers, chemicals, emeralds, cotton products, sugar, livestock
GNI per capita: US $7,590 (World Bank, 2013)
Internet domain: .co
International dialling code: +57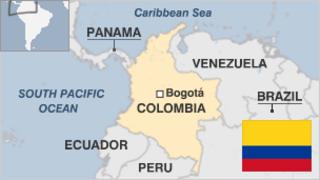 Colombia has significant natural resources and its culture reflects the indigenous Indian, Spanish and African origins of its people.
But it has also been ravaged by a decades-long violent conflict involving outlawed armed groups, drug cartels and gross violations of human rights, although, since 2002, the country has been making significant progress towards improving security.
The fourth largest country in South America and one of the continent's most populous nations, Colombia has substantial oil reserves and is a major producer of gold, silver, emeralds, platinum and coal.
It also has a highly stratified society where the traditionally rich families of Spanish descent have benefited from this wealth to a far greater degree than the majority, mixed-race population. With few avenues for social mobility, this provided a ready constituency for left-wing insurgents.
However, the lucrative returns from drugs and kidnapping came to dominate the rebels' agenda, and largely replaced ideological motivations. The conflict has dragged on for decades, and at one point the government effectively lost control of large swathes of Colombian territory to the rebels, especially in the north and east.
However, since 2002 the government has managed a string of spectacular successes against the rebels, regaining control of much of their territory and raising hopes that the conflict might be drawing to a close. Farc, the largest rebel group, began talks with the government in earnest in November 2012, and the authorities said the rival ELN was also interested in negotiations.
The government has been leading efforts to rebrand the country and shake off its image as a trouble spot associated with drugs and kidnapping.
It says major advances have been made in security, demobilisation of illegal armed groups, drug eradication and economic development, and that by early 2012 only 6% of the country was under potential threat from terrorist groups or organised criminal bands.
Several foreign governments, however, maintain travel warnings, and little progress has been made in combating drug-smuggling.
At the other end of the political spectrum from the left-wing rebels were illegal right-wing paramilitary groups, but these have largely demobilised under a government peace initiative.
The US, a key market for Colombian cocaine, has bankrolled the fight against the trade to the tune of billions of dollars. But critics say "Plan Colombia" has had little impact on the supply and price of drugs.