Peru talks tackle violence that blights young lives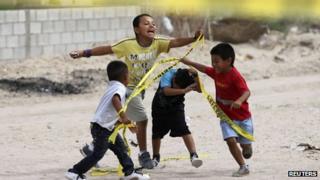 Villa El Salvador, a poor district in the Peruvian capital, Lima, is typical of urban sprawls across much of the world.
Most of its roads are unpaved. Poor families live in shacks of corrugated iron sheets. And at night, packs of stray dogs share the poorly lit streets with rowdy teenage gangs.
Julinho Ponce, a 16-year-old local youth leader, says that children are afraid to play outside because gangs carry knives.
"If they don't know you, or are high on drugs, they attack you," he says.
Julinho attends the Colegio Solidaridad Peru-Alemania, a local school that offers support to students who suffer from bullying and domestic violence.
"There are children who come to school with bruises, and won't say why because of fear and shame," says Julinho.
"We try to offer help and talk to the parents, but not all parents think there's a problem."
Early years
Last year, 1,325 children under the age of 17 were victims of sexual and/or domestic violence in Villa El Salvador. More cases may have gone unreported.
A conference this week in Lima, attended by experts from countries including the US, Colombia, Brazil and Mexico, has been looking at how to respond to and prevent violence against young children.
Whether in cities in Latin America and the US, or in conflict zones in the Middle East and Africa, experts agree that growing up in a violent environment can lead to health problems later on in life.
Problems with alcohol, illicit drug use, smoking and unsafe sex typically start in adolescence, says Alex Butchart, Co-ordinator for the Prevention of Violence at the World Health Organisation in Geneva.
"They then continue into adulthood with immense consequences for mental health, depression, panic disorders and suicide attempts."
Michael Feigelson from the Bernard van Leer Foundation, a Dutch organisation that works on early childhood development, says research has shown that violence can lead to biological changes in the brain.
"When you're around conditions of toxic stress," he says, "you're going to develop the part of your brain that deals with survival more than the part that deals with things like higher cognitive functions.
"This biological change can lead to more aggressive behaviours."
Exploitation
For the past three years, politicians in Peru have been debating how to protect minors against violence.
A draft new Code for Children and Adolescents - which spells out their rights and protection under the law - was recently drawn up by the Justice Commission of Congress, and politicians are set to vote on it soon.
But Peru's Public Ombudsman and child protection organisations are worried that, in its current form, the code could do more harm than good.
Some of the concern is that it does not explicitly denounce sexual violence and corporal punishment.
"We've seen children who were so badly punished by their parents that they died," says Lourdes Febres from Peruvian charity Action for Children.
She also wants politicians to scrap a plan that would deny public sexual health information and advice to minors.
"Prohibition is not going to solve the problem of sexual abuse and exploitation," she says, pointing out that many girls are raped at a very young age.
Next generation
Maria Soledad Perez, the president of the Justice Commission, admits that the new code would be a step backwards, and says that more discussion is needed.
"We're going to listen to all concerns, because the idea is to have a set of norms that can really protect all children."
But Juan Carlos Eguren, a member of Congress who worked on the previous draft, says that the code needs to reflect the deeply conservative and religious views of Peruvian society.
"We are not limiting the rights of children," he says, "but strengthening the role of the family."
But for Ms Febres the code also falls down here.
"Parents don't take into consideration that children have rights, and the government - as a guarantor of these rights - is not doing its job," she says.
The debate about how public institutions should protect children is not unique in Peru.
But many experts across the world are adamant that throwing abusive parents in jail will not end the problem.
Dr Butchart agrees that governments should invest more in prevention.
"It could lead to a generation of children who grow up to be far less susceptible to becoming involved in that kind of violence," he says.
But Dr Butchart recognise that such calls may fall on deaf ears, especially in poor developing countries where the police are often struggling to contain serious drug- and gang-related violence of the here and now.