Venezuela Amuay refinery fires still burning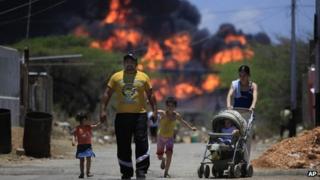 Fires are still burning at an oil refinery in Venezuela, the site of a deadly explosion early on Saturday.
Two storage tanks are still alight but state oil company officials say they have the situation under control.
Forty-one people died and dozens were injured in the blast at the Amuay refinery in northern Falcon state, one of the largest in the world.
Mining Minister Rafael Ramirez said operations could resume within two days of the site being declared safe.
A doctor at Coromoto Hospital said on Sunday that two people had died of burns, raising the number of dead from the earlier figure of 39 to 41.
A thick column of black smoke continued to rise from the refinery throughout Sunday.
Firefighters said their work had been slowed down by increasing winds and a change in wind direction.
Investigation
Mr Ramirez said fuel and oil supplies in Venezuela would not be affected as the state had a large enough stockpile to cover the shortfall.
Government officials said the blast occurred at 01:15 local time on Saturday when a gas leak created a cloud that ignited.
More than 200 homes and 11 businesses were damaged.
Venezuelan President Hugo Chavez, who visited the scene on Sunday, declared three days of national mourning and ordered an urgent investigation into the blast.
Venezuela has the world's biggest certified oil reserves.
Critics say under-investment by state oil company PDVSA has led to a decline in production and safety standards.
But Mr Chavez said there was no evidence the blast was the result of poor maintenance.