Nicaraguan police seize $7m from fake Mexico journalists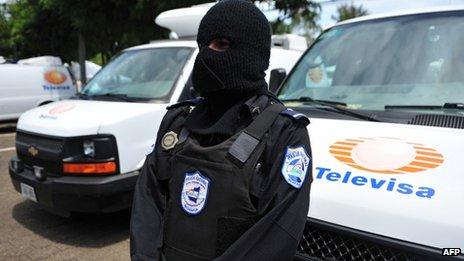 Police in Nicaragua say they have found at least $7m (£4.4m) in cash in vans confiscated on Wednesday from 18 people posing as journalists.
They were detained trying to cross Nicaragua's northern border in six vans, some of them painted with the logos of Mexico's Televisa network.
Police chief Aminta Granera said the money was found in three of the vans.
Police are investigating possible links with drugs gangs operating in Central America.
The "fake journalists" said they were travelling to Nicaragua to cover the high-profile of trial of suspects in the killing of Argentine folk singer Facundo Cabral last year.
But as soon as the arrests were announced, Mexico's Televisa network denied it had sent any journalists to Nicaragua.
The Mexican embassy in Managua has confirmed that some of the 18 suspects are Mexican citizens.
A police officer from Mexico's Durango state is one of those detained.
Nicaraguan authorities say they are now working with Interpol to check whether the group has any links with criminal organisations.
Mexican drug-trafficking cartels are known to smuggle drugs and huge sums of money to and from Colombia through Central American countries.
Aminta Granera told the Associated Press news agency that the elaborate operation was aimed at smuggling cash through Nicaragua to Costa Rica, further south.