Venezuela pledges action after 25 die in prison riot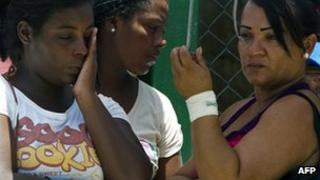 Venezuelan authorities say all steps are being taken to prevent a repeat of a bloody prison riot that is now known to have left 25 people dead.
Fighting broke out at the Yare I prison in Miranda state on Sunday while hundreds of relatives were visiting.
Prisons Minister Iris Varela said there would be a full inquiry.
Violence between rival gangs is common in Venezuela's overcrowded jails and so far this year more than 300 people have died, a local rights group says.
Ms Varela said the latest violence was believed to have started when a shot was fired during a discussion between inmates.
She said 25 people were killed and 43 others injured.
"We are taking all the necessary steps to avoid a repeat of such an incident, and we are proceeding with the disarming of the prison population," Ms Varela said.
Among the measures, she said, was the installation of body scanners in some prisons.
Addressing wider concerns about Venezuela's prison system, Ms Varela has said that violent inmates were "a minority who maintain control through terror".
The majority of prisoners were peaceable, "want to pay off the debt they owe and return to their lives", she said.
According to the non-governmental Venezuelan Prisons Observatory (VPO), more than 50,000 inmates are housed in prisons built to hold 14,000.
The state of the nation's jails is a politically sensitive issue, ahead of October's presidential election.
President Hugo Chavez created the prisons ministry last year to push through reforms of the system after a major uprising at El Rodeo jail outside Caracas.
Mr Chavez has previously said that the prison system was neglected long before he took office in 1999.
Reacting to the news from Yare, Mr Chavez's main rival, Henrique Capriles, wrote on Twitter that the transformation of the prisons was "another big lie by the government".