Man 'escaped Mexico mass killing' in San Luis Potosi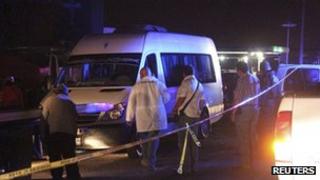 A man is claiming to have survived a mass killing near the city of San Luis Potosi, where officials discovered a van containing 14 bodies, police say.
The man said he managed to survive by playing dead and letting the attackers pile him into the van along with the other bodies.
He said he fled into the hills when the assailants stopped for petrol.
Investigations continue into the motive for the crime.
Officials have released few details about the case.
The defence ministry said the victim, whose name has not been released, "played dead when he noticed what was going on, and later took advantage of the moment the alleged murderers filled the van with petrol to escape into the countryside, where he was found by state police".
Police discovered the bodies in the early hours of Thursday after receiving a tip-off about an abandoned vehicle on the highway leading from San Luis Potosi to Zacatecas.
They said the bodies had bullet wounds and some showed signs of torture.
Officials said the killing was probably linked to drug-trafficking.
They said they suspected the victims were from another state, probably Coahuila, to the north of San Luis Potosi, from where they had been abducted on Wednesday.
It was the latest in a series of recent massacres in northern Mexico, but the first in San Luis Potosi state.
Mexican police have blamed several previous atrocities on conflicts between rival drugs gangs, but they have not yet commented on the possible motive for Thursday's killing.