Top Mexican 'drug queen' Sandra Avila extradited to the US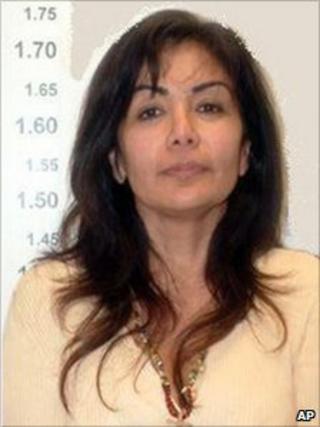 Mexico has extradited to the United States a woman accused of setting up some of the first drug smuggling routes up the Pacific coast into California.
Sandra Avila Beltran, dubbed Queen of the Pacific, has been handed over to the American authorities to face cocaine trafficking charges.
Mexican prosecutors accuse her of having played a major part in the build up of the Sinaloa Cartel in the 1990s.
Sandra Avila, who has been in prison since 2007, denies any wrongdoing.
Prosecutors say she worked alongside Mexico's most wanted man, Joaquin "Shorty" Guzman, to build up one of Mexico's most powerful criminal organisations.
She was accused of being an important link between the Sinaloa Cartel and the Norte del Valle Cartel, in Colombia.
Much of the cocaine produced in Colombia is smuggled into the United States via Mexico.
Sandra Avila Beltran is the niece of Miguel Angel Felix Gallardo, known in the 1980s as "The Godfather" of drug trafficking into the US.
Botox in jail
Ms Avila was arrested in September 2007 in Mexico City, charged with money laundering and drug trafficking.
She has fought the charges, saying she made her money selling clothes and renting houses.
After a legal battle against extradition, Sandra Avila was handed over to the American authorities in Mexico.
She was taken to Florida to face cocaine possession and trafficking charges.
The BBC's Will Grant in Mexico says prosecutors unsuccessfully tried to bring drug smuggling charges against her but she remained in prison on money-laundering charges.
The authorities allege she controlled vast amounts of the illicit wealth of the now largely defunct Beltran Leyva Organisation.
In February 2011, the director of the prison where she was being held was sacked after it emerged that a doctor had been allowed in Sandra Avila's cell to give her botox injections.