Hurricane Ernesto moves over Mexico's Yucatan Peninsula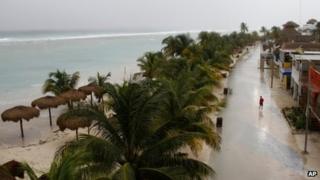 Hurricane Ernesto is churning over Mexico's Yucatan Peninsula, bringing heavy rain as it moves towards the open waters of the Gulf of Mexico.
Ernesto, which has already drenched northern Honduras and Belize, is currently a category one hurricane with top sustained winds of 130km/h (80mph).
Residents in low-lying areas took refuge in shelters and tourists moved to hotels further inland.
Ernesto is forecast to reach Mexico's Gulf Coast by Thursday evening.
At 06:00 GMT Ernesto was some 35km north of Chetumal, moving westwards at 24km/h, according to the US National Hurricane Center (NHC).
Flooding was reported in Chetumal, where some 2,300 people had earlier been moved inland, civil protection officials said.
Other people took refuge in shelters in the town.
The Yucatan Peninsula is home to many tourist resorts, including Cancun, where there were heavy downpours.
Ernesto made landfall in Mexico after passing close to the coast of Honduras and Belize.
The NHC warned that flash floods and mudslides were possible in mountainous areas of Honduras.
Ernesto is forecast to move over the southern Gulf of Mexico, where state oil company Pemex has offshore oil platforms.
Pemex said so far its installations were working normally and oil production had not been affected.