Venezuela Olympian Ruben Limardo gets hero's welcome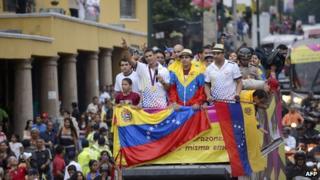 Venezuelan fencer Ruben Limardo, who won his country's first gold medal in 44 years, has been cheered by huge crowds as he arrived in Caracas.
Tens of thousands waited for Limardo at the airport and alongside the streets leading to the centre of the Venezuelan capital.
He rode on the top of a truck, waving the Venezuelan flag and thanking fans for their support.
"I share my Olympic medal with all of you," the 27-year-old fencer said.
Limardo won the men's individual epee at the London games on Wednesday, beating Norwegian Bartosz Piasecki 15-10 to earn Venezuela only its second Olympic gold medal ever.
The man who won Venezuela's other gold Olympic medal in 1968, boxer Francisco "Morochito" Rodriguez, was among thousands of people who went to the airport to give Limardo a hero's welcome.
"I achieved my dream and a dream that Venezuela also hoped for," he said in Caracas. "I love you a lot."
Gold on the tracks
Ruben Limardo said he didn't expect so many people to be at the airport and in the streets of the capital.
"I dedicate this medal to the children because they are the future," he said.
President Hugo Chavez announced last week that he would present Limardo with the country's highest honour, the Order of the Liberator.
Ruben Limardo will be remembered by many for sharing his Olympic joy with the passengers of a packed tube train, as he headed for central London after his fencing triumph last week.
Sporting his national tracksuit and with the gold medal around his neck, the fencing star and Olympic first-timer hopped on to a carriage with an entourage of some 20 celebrating Venezuelan team-mates and fans.
"It summed up the spirit of the Games that he felt faith in London to take public transport in a foreign country around midnight," said a passenger who was on the carriage.