Venezuelans head to practice polls for October election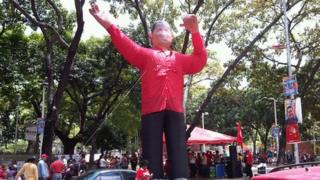 Voters in some parts of Venezuela are being urged to go to the polls on Sunday in a dress rehearsal for October's presidential election.
The electoral commission hopes many of the 250,000 voters registered at the 55 centres selected will turn out.
They will be using a new electronic system in October's election, which pits President Hugo Chavez against opposition candidate Henrique Capriles.
It is expected to be the closest vote yet for Mr Chavez.
Communications testing
If the election goes ahead as planned on 7 October, voters in Venezuela will have to identify themselves by their fingerprints before they go on to vote using an electronic system.
"We're going to test everything concerned with the layout of the polling stations, which has changed a little from the traditional layout, and where voters go for each phase of the voting process," Sandra Oblitas, the vice president of the electoral commission, told the BBC.
The commission will also be testing its telephone and satellite communications between their headquarters in Caracas and centres across the country
Campaigning is already in full swing ahead of the election, which could be the closest contest yet for President Chavez, says the BBC's Sarah Grainger in Caracas.
He has been in power since 1999, but was diagnosed with cancer last year.
More than 30 opposition parties have backed a single candidate, Henrique Capriles, to challenge the leftist president.