Colombian Farc rebels release two abducted pilots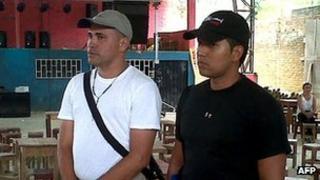 Members of Colombia's largest rebel group, the Farc, have released two hostages they had been holding.
The two men, who are civilian pilots, had been captured on 10 July when their helicopter made an emergency landing in south-western Cauca province.
They were handed over to a Red Cross delegation in a remote part of the Colombian jungle.
In February, the rebels had announced that they would stop all political abductions and kidnappings for ransom.
But in April, the Farc kidnapped French journalist Romeo Langlois as he was filming Colombian soldiers destroying coca laboratories in southern Caqueta province.
Mr Langlois was held for 36 days before being released.
The rebels had argued that as Mr Langlois had been wearing a flak jacket and helmet issued by the army, he was a prisoner of war, and therefore had not been kidnapped, but captured in battle.
Fundacion Pais Libre, a pressure group representing the relatives of kidnap victims, says that the number of people abducted in Colombia has risen this year.
The group says 90% of all kidnappings in Colombia between January and March 2012 were carried out by common criminals rather than rebel groups.