Venezuela's prisons see security breakdown
By Abraham Zamorano
BBC Mundo, Caracas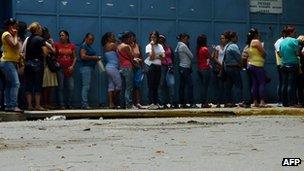 Venezuela's prisons are a hotbed of corruption and overcrowding - and a thorn in the side of President Hugo Chavez.
Just before dawn on 12 July, Frank Reinaldo Contreras, Joan Manuel Perez, Guillermo Calderon and Jhonatan Rivera took advantage of darkness to make their getaway from the El Marite jail.
They had been quick to begin work on their escape plan, but they had to be patient. They spent four months burrowing their way to freedom from a bathroom in the prison.
Their tunnel took them to the main courtyard. From there, they climbed up to the roof, dragged themselves on their elbows to a fence that separated them from the street, climbed over it, and they were out.
Similar stories are reported in the Venezuelan media at least once a month.
In 2011, deadly riots at the El Rodeo prison resulted in drug and arms charges for prison directors.
In response, President Chavez formed a special People's Power Ministry of Correctional Services (MPPSP). But one year later, prison policy continues to be a stumbling block for the leader.
BBC Mundo tried unsuccessfully to get a statement from the Ministry of Correctional Services on the issues affecting the country's prisons.
Humberto Prado, director of the Observatorio Venezolano de Prisiones (OVP), which monitors the country's prisons, told BBC Mundo: "Inmates are looking for a way out from the minute they are locked up.
"Their lawyer tells them they'll be free the next day, other prisoners tell them they know where the escape routes are and, with all the overcrowding, everything prompts them to want to leave."
The OVP estimates that of 34 prisons in the country, the state has control of just six. In the rest, they say, the prisoners are in charge.
In such cases, those "deprived of liberty" - as the government and the media often refer to inmates - can be heavily armed. Gun battles often break out between them and the National Guard.
This lack of control makes it virtually impossible to ascertain how many fugitives are walking about freely in Venezuela.
On 4 July last year, the police shot dead Ender Enrique Escobar when he was about to pick up a kidnap ransom. He was supposed to have been in jail serving a sentence for theft.
And a few months ago, firefighters discovered six inmates in the sewers near La Planta prison.
Prisons minister Iris Varela said officials had prevented a massive escape that day. But activists who monitor prison conditions estimate that at least 150 prisoners had already got away.
Besides jumping over walls, crawling through tunnels or shooting their way out, there is a less risky way of escape.
"Within this serious breakdown of the Venezuelan penitentiary system we are now seeing that they are just walking out the door," said Carlos Nieto of Una Ventana a la Libertad, an advocacy group for prisoners' rights.
This usually happens after paying a bribe of between 80,000 and 200,000 Bolivares ($18,500-$46,500; £12,000-30,000), says Mr Nieto.
"The levels of corruption are very high. But the government is never going to acknowledge this officially."
Venezuela's prisons officially have a total capacity of 14,500 inmates but house as many as 45,000.
But Mr Nieto and Mr Prado say prisoners are heavily armed thanks to collusion with the authorities.
Through corruption or negligence, they say, it is possible for each prison to be under the control of a so-called "pran" - a prison gang leader - who demands a weekly payment from the other prisoners to keep the peace.
According to prison rights groups, those who fail to pay up are made to clean or work. Or they are simply killed.
"The prans use the money to bribe and get arms but they also do things for the benefit of inmates. They cover basic needs in prison, such as cleaning and personal hygiene products, which should be the responsibility of the state," Mr Nieto said.
Some, he says, are more generous: on the island of Margarita, there is a swimming pool paid for by a prison gang leader, while others host parties.
The level of violence inside Venezuela's prisons is so high that events like a month-long clash at the Region Andina Penitentiary Centre in the state of Merida received little media attention.
There have been reports of heavy fighting, where the National Guard has faced inmates dug in trenches armed with assault rifles and even hand grenades.
Besides the recent clashes in Merida, there have been problems at El Rodeo III, where last Thursday, 649 inmates refused to enter their cells, took refuge on the roof and sewed their mouths shut in protest over the mistreatment they allegedly receive.
Ms Varela, during a recent television interview on Vive TV, said that the government was turning the penal institutions into "spaces for life" and "units of social production."
She said her department aimed to reform prisoners for a smooth transition into civilian life.
According to Mr Prado, "the structural foundations of the problem have to be addressed."
The activist says that as long as the overcrowding and lack of specialised personnel continue "the Venezuelan prison system will not be able to fulfil its role of reintegrating inmates into society".