Peru mine disputes mar President Humala's first year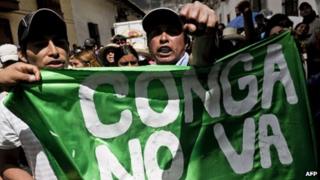 Peruvian President Ollanta Humala was sworn in a year ago, vowing to eradicate poverty and social exclusion. But his first 12 months in office have been marked by disputes and conflict, above all in the key mining projects.
It was a Tuesday afternoon, and Cesar Medina was going to a friend's house to lend him a book.
As he was walking on the main square of Celendin, a colonial city in the Cajamarca region of northern Peru, a bullet hit him in the head, killing him instantly.
"Sometimes I think I'd rather commit suicide so that I can be with him again," says Cesar's mother, Maximila Aguilar.
"He was my little angel. He was just passing by, and they killed him."
Cesar was 16 years old.
She blames the government for the deaths of her son and four other men, who were killed in separate clashes with the police earlier this month amid continuing protest over a huge mining project.
Environmental fears
As Peru celebrates its independence day on 28 July, many residents in Cajamarca are recalling with bitterness and resentment the promises made by Mr Humala when he was inaugurated on 28 July 2011.
The president began his term vowing that his government would use dialogue, not force, when dealing with social conflict.
His critics, however, say little has changed from the practices of the past.
At least 17 people have been killed in police confrontations since Mr Humala came to power.
Two states of emergency have been declared in Cajamarca in recent months, but what have been at times violent protests against the construction of a multi-billion-dollar, water-intensive gold mine have continued.
The consortium behind the Conga mining project, led by US giant Newmont, insists that work will be carried out in an environmentally sensitive way, with artificial reservoirs providing the necessary water.
But opponents fear the mine will permanently destroy the water basins on which the mostly dairy and agricultural region depends.
Many residents say they feel betrayed by a president they elected because on the campaign trail, he promised he would side with them.
Wearing a poncho at an election rally in May 2011, Mr Humala asked his Cajamarca audience whether they preferred gold over water.
"Water!" they shouted, and applauded even more loudly when the then-presidential candidate reassured them he would not serve the interests of mining companies.
"I give you my promise that I will respect your wishes," he said.
But the cheers back then have now turned sour.
"The origin of our fight in Cajamarca is partly the result of the indignation and treason our people feel," says Edy Benavides, one of the protest leaders.
"That's why we now tell our president that the project is not viable, not now, not ever."
Scaring investors
However, not everyone wants a poor region like Cajamarca to turn its back on Conga.
"The conflict has contributed to instability, insecurity and uncertainty, and that's not only damaging to Cajamarca," says Jorge Vergara, president of the region's Chamber of Commerce.
According to the business network, the unrest is costing the local economy up to $1.2m (£765m) a day.
"It's beginning to affect our international image, and investors could flee," Mr Vergara says.
But despite supporting the need for the Conga project to go ahead, which he says would create jobs, Mr Vergara understands why many Cajamarca residents are angry.
"People want our economic growth (of around 6% a year) not to benefit just a few."
Peruvian Vice President Marisol Espinosa says that the government has made tackling poverty a priority.
But she admits that errors were made in Cajamarca.
"We lacked savoir fare when dealing with social conflict," Ms Espinosa told BBC Mundo.
"We dealt with the people in a totally distant manner, saying, 'You do what I tell you to do, because I am the government'.
"But it's the people who elected us that we have to listen to," she said.
Dispute drags on
A change of approach may be imminent. Since last Monday, Peru has a new prime minister, Juan Jimenez, who insists he wants dialogue, not bullets, to solve the more than 200 continuing social and environmental disputes in the country.
But Peruvians have heard it all before. They want Mr Humala to find alternatives to the current economic model which has yet to lift millions of Peruvians out of poverty.
"We want sustainable development that is based on agriculture, cattle farming and eco-tourism," says Mr Benavides.
Mr Vergara says: "We need a new relationship with mining companies, making sure they are held responsible and respect our laws."
For its part, Newmont says it is listening and open to such proposals.
"We are ready to look into all the mistakes we made in the past so that we can correct them and move forward," said Carlos Santa Cruz, a Newmont executive, at a recent news conference.
But despite the good intentions, all sides are still unable to find a compromise.
The red and white Peruvian flags will be taken down after independence day.
But the yellow flag with the words "Conga no va" (Conga will not go ahead) is likely to continue flapping in the wind for some time to come.