Venezuela deports 'Colombian drug lord' Diego Rastrojo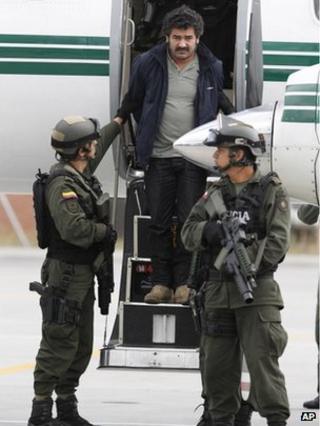 Venezuela has handed over a man accused of being top Colombian drug lord to the Colombian authorities.
Diego Perez Henao, better known as Diego Rastrojo, was arrested in the Venezuelan state of Barinas last month.
Colombian officials say he heads Los Rastrojos, a gang that has grown quickly in recent years, exporting cocaine to the US via Mexico.
He was indicted in the US state of Florida in 2011 on charges of conspiracy to traffic cocaine.
Diego Rastrojo was detained by Venezuelan police on 3 June on information provided by the Colombian authorities.
The authorities captured him as he was trying to escape by speed boat on the river Masparro, which his ranch bordered on.
He was arrested along with his 10 bodyguards.
Deadly feuds
According to police in Bogota, Diego Rastrojo controlled half the members of the paramilitary criminal organisations involved in drug trafficking in Colombia.
He was said to have 800 hitmen under his command.
He reportedly became the leader of Los Rastrojos when his main associate, Javier Antonio Calle Serna, known as Comba, surrendered to the US authorities earlier this year.
Police say Diego Rastrojo began his criminal career with Colombia's largest rebel group, the Farc.
They say that in the mid-1990s he joined the now-defunct Norte del Valle drugs cartel as a debt collector for Wilber Varela, better known as Jabon (Soap).
After an internal disagreement in the cartel, Diego Rastrojo with the help of his two associates, the brothers Javier Antonio and Luis Enrique Calle Serna, allegedly killed Wilber Varela and took over the cartel's leadership.
Colombian President Juan Manuel Santos has made the fight against drug gangs such as Los Rastrojos one of his priorities.