Chavez unveils Simon Bolivar's reconstructed 3-D face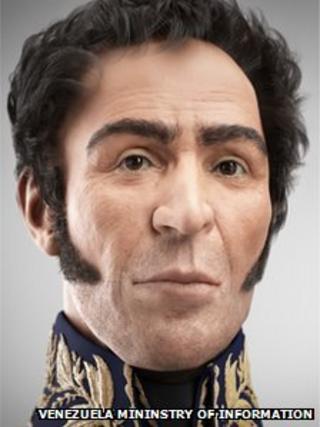 Venezuelan President Hugo Chavez has unveiled a 3-D reconstruction of the face of Simon Bolivar, who died in 1830 after leading the fight against Spanish colonial rule in the region.
The computer-generated image was created by artists studying Bolivar's remains.
It looks remarkably like known portraits of the South American liberation hero.
Two years ago Mr Chavez ordered that the remains should be exhumed.
Bolivar was widely thought to have died from tuberculosis aged 47.
But the Venezuelan president had a theory that Bolivar had been poisoned in revenge for his fight against the Spanish empire.
Forensic tests were inconclusive.
The 3-D image was unveiled at Miraflores presidential palace in the capital, Caracas, on the 229th anniversary of Bolivar's birth.
"Bolivar is the fight that does not end, he is born every day in ourselves, in his people, in the children, in the fight for life and for social justice," said Mr Chavez, a big admirer of the Venezuelan-born national hero.
"He was, is and will be one of the greats of humanity, a true giant of the human cause."
Bolivar's remains will reside in a new mausoleum built in central Caracas. It was built with marble imported from South Africa and cost around $78m (£50m).
Many cities in South America have monuments honouring the man known as "The Liberator".
He began his fight against the Spanish empire in the early 1800s and after independence became the president of Gran Colombia, which covers much of modern Colombia, Panama, Venezuela, Ecuador and northern Peru.
A few years later, the Republic of Bolivia was created. Simon Bolivar became one of the few men to have a country named after him.