Profile: Peruvian Prime Minister Juan Jimenez Mayor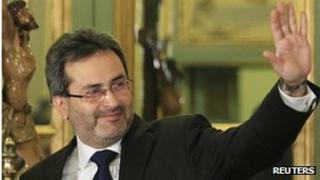 Juan Jimenez Mayor has been chosen to serve as prime minister by Peru's President Ollanta Humala.
He replaces former army officer Oscar Valdes, who resigned on 23 July following a crackdown on protesters opposed to the Conga mining project in the northern region of Cajamarca.
The protests left five people dead and President Humala's popularity rating the lowest it has been since he took office a year ago.
Although reportedly not the president's first choice, Mr Jimenez has promised a "cabinet of dialogue".
Mr Jimenez was born on 5 August 1964 in Lima. A lawyer by profession, he studied at the Pontifical Catholic University of Peru and subsequently qualified for the bar. He also holds a master's degree in constitutional law.
Mr Jimenez has worked on major legal projects inside the country and regionally; he provided advice on reform of the Nicaraguan judicial system and the Ecuadorean court fee system.
He has also been a senior adviser to the Electoral Observation Mission of the Organization of American States for the general election in Guatemala (2007) and Paraguay (2008).
Into government
In 2001, he served as deputy justice minister in the interim government that followed the fall of President Alberto Fujimori and received the Order of the State Civil Service for his services to the nation in working on a strategy to battle corruption.
In August 2011 he returned to government after being appointed deputy minister of justice. Three months later, he became minister of justice and human rights.
In his short stay at the ministry he has dealt with several high-profile problems, including ordering the transfer of President Humala's brother Antauro from one prison to another after allegations that he had been intimidating prison staff.
Mr Jimenez's promotion has not met with universal approval. The opposition have criticised his appointment, with some saying that he does not have the experience to manage the cabinet.
One legislator, Víctor Andres Garcia Belaunde, said: "We are going to lose a good justice minister and are not going to gain a good cabinet chief".
BBC Monitoring selects and translates news from radio, television, press, news agencies and the internet from 150 countries in more than 70 languages. It is based in Caversham, UK, and has several bureaux abroad. For more reports from BBC Monitoring, click here