Top Cuba dissident Oswaldo Paya killed in car crash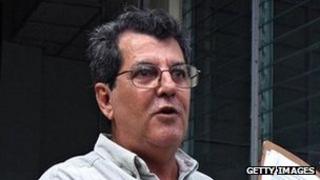 Prominent Cuban dissident Oswaldo Paya has died in a car crash near the eastern city of Bayamo.
There have been unconfirmed reports that his fellow activist Harold Cepero Escalante also died in the accident in Granma province.
Mr Paya is known as the founder of the Varela Project - a campaign to gather signatures in support of a referendum on laws guaranteeing civil rights.
The 60 year-old was seen as a key spokesman for Cuba's small opposition.
His death was reported on Twitter by prominent dissident blogger Yoani Sanchez, who described him as "irreproachable" and his death as a great loss to Cuba.
The circumstances of the accident are still unclear, although witnesses say the driver of a rental car lost control and hit a tree.
A state media website said there had been a "regrettable traffic accident" that killed two Cubans, while two other people, one Swede and one Spaniard, were injured.
Oswaldo Paya's death comes after another prominent Cuban dissident, Laura Pollan, founder of the protest group Ladies in White, died last October.
Longstanding activist
In 2002, Mr Paya won the Sakharov Prize - the European Union's human rights award - for his work with the Varela Project, which was created in 1998.
In May 2002, he presented Cuba's National Assembly with a petition of more than 10,000 signatures calling for an end to four decades of one-party rule.
He has since repeatedly delivered petitions to the body, including one in 2007 calling for an amnesty for non-violent political prisoners.
The Cuban government described him as an agent of the United States who was working to undermine the country's revolution.
A devout Christian, Mr Paya was also the founder of the Christian Liberation Movement, which campaigns for political change, civil rights and the release of political prisoners.
His influence is seen has having waned recently, with a new generation of internet-based activists, such as Yoani Sanchez, coming to the fore.
Born in 1952, Mr Paya became a critic of the communist government as a teenager. In 1969, he was sent to a work camp as punishment.