Chile child sex abuse to be investigated at 61 schools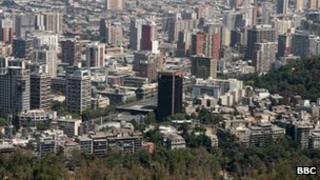 Prosecutors in Chile are investigating about 60 schools in the capital, Santiago, over allegations that pupils were sexually abused.
The investigations come after reports of child sex abuse in schools and day care centres increased markedly this year.
Most of the schools are in Santiago's affluent eastern areas.
Earlier this week, Chilean President Sebastian Pinera announced a raft of measures to combat child sex abuse.
Attorney general Sabas Chahuan said 49 schools in eastern Santiago and about a dozen on the west side of the city would be investigated.
"Wherever there are children, we will investigate just the same as we do with corruption or economic crimes," Mr Chahuan said on Friday after meeting representatives of a parents' association.
"We put ourselves in the place of the parents and we know they're worried, anxious and desperate."
According to the National Prosecuting Authority, complaints of sexual abuse of children under the age of 14 jumped 22% in the first half of 2012, compared to the same period in 2011.
On Wednesday, President Pinera said a database registering those convicted of sexually abusing minors or of child pornography offensives would be operational from August.
A new law last month banned convicted paedophiles from working near children.