Mexico's Lopez Obrador alleges election money laundering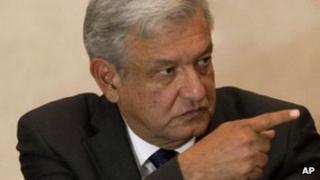 The runner-up in Mexico's presidential election, Andres Manuel Lopez Obrador, has alleged that winner Enrique Pena Nieto's campaign used laundered money.
He said he had evidence that Mr Pena Nieto's Institutional Revolutionary Party (PRI) had used illicit money.
The PRI rejected the accusations as "flagrant defamation" by Mr Lopez Obrador, who is legally challenging the result of the 1 July poll.
The electoral tribunal has until September to rule on the election.
Mr Lopez Obrador, from the Party of the Democratic Revolution (PRD), had previously accused Mr Pena Nieto of vote-buying and exceeding limits on campaign spending - charges the PRI rejected as baseless.
On Wednesday, Mr Lopez Obrador detailed specific money laundering allegations, telling a news conference that he had evidence that his opponent's campaign had used illicit funds.
He alleged that money was channelled via front companies to buy pre-paid debit cards that were given to people to encourage them to vote for Mr Pena Nieto.
"This is money laundering," he said.
Seeking support
Asked whether they were suggesting the involvement of drug money, Mr Lopez Obrador's legal adviser, Jaime Cardenas, said they did not have conclusive proof of that.
"That's what the authorities have to investigate," he said.
The allegations provoked a strong reaction from the PRI.
"We reject as inadmissible the accusations of money laundering, which constitute a flagrant defamation," a party statement said.
"(Mr Lopez Obrador) demanded a recount and when it confirmed the result, he changed his argument to massive vote buying, which did not stand up, and now he is launching another unlikely charge of money laundering."
Mr Pena Nieto was confirmed as the winner after a final recount, with 38.21% to Mr Lopez Obrador's 31.59%.
The electoral court has until early September to rule on the validity of the election and declare a president-elect.
Mr Pena Nieto, who met outgoing President Felipe Calderon earlier this week, said he hoped the other parties would respect the election result.
The PRI, which governed Mexico for 71 years until 2000, did not win a majority in congressional elections, also held on 1 July.
This means Mr Pena Nieto will likely need support from opposition parties to enact reforms in key sectors such as energy, tax and labour.