Brazil biologists investigate penguin deaths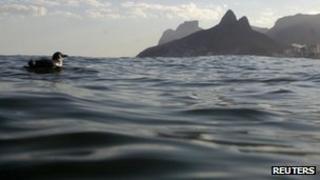 Brazilian biologists are investigating the deaths of more than 500 penguins found washed up on the beaches of Rio Grande do Sul state.
Autopsies are being conducted on some of the birds to determine the cause of death.
Researchers said the penguins appeared to have been well-fed, with no apparent injuries and no oil on their bodies.
Similar incidents in the past have been blamed on shifting ocean currents and colder temperatures.
Magellanic Penguins migrate to southern Brazil from Patagonia every year during the southern winter.
Last week dozens of young penguins were rescued from beaches in Rio de Janeiro after straying far beyond their normal range.
The birds delighted beach-goers, but scientists said their health was suffering in the tropical waters.
Brazil's environment agency is preparing to fly those penguins back to the south.