Wreckage of missing Colombian air force plane found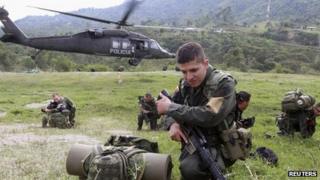 The Colombian air force says it has found the wreckage of one of its planes, which had disappeared on Wednesday.
Air Force Commander Gen Tito Pinilla said they had located the wreckage in a remote mountainous area in south-western Cauca province.
Gen Pinilla said both crew members had died in the crash, the causes of which are not yet clear.
The Super Tucano plane was supporting troops fighting Farc rebels.
The left-wing guerrillas say they downed the aircraft.
But Colombian President Juan Manuel Santos said he thought it was highly improbable that the plane had been shot down by the rebel group, because "they don't have the capacity to do that".
Conflict zone
Gen Pinilla said his force had found the wreckage and the body of one of its two pilots at the place where it crashed.
The body of the second pilot was taken by Farc rebels, who later handed it over to a delegation from the International Committee of the Red Cross (ICRC).
Both bodies are now in the regional capital, Popayan, where post-mortems will be carried out.
Tired of war
The plane disappeared on the same day that President Santos visited Cauca, a strategic area for the production and trafficking of cocaine, and a Farc rebel stronghold.
The president met indigenous leaders, who have been calling for the security forces and rebels to leave their land.
The indigenous leader of the town of Toribio, Marcos Yules, said the civilian population was tired of bearing the brunt of the fighting.
The town has come under rebel attack 14 times since the beginning of the year.
On Monday, about 1,000 members of the Nasa, Guambiano and Paez tribes destroyed trenches built by the police to defend their police station.
They said the presence of the security forces was attracting rebel attacks.
An indigenous commission also marched to Farc camps in the mountains surrounding Toribio to demand the rebels leave the indigenous ancestral lands.
President Santos promised the indigenous groups more support, but said the military would not pull out of the region.
"Our military and police are here to protect you," Mr Santos said during a tense visit on Wednesday to Toribio, where he was jeered by locals.
"They are here and they are going to stay."
All Colombians were tired of war, he said. "But in no way can we demilitarise even one centimetre of our land."
Before Mr Santos arrived, helicopter gunships shot at rebel positions in the mountains, a Reuters photographer reported.