Peru launches project to fight child labour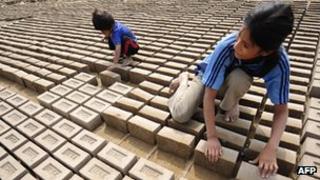 Peru is using money donated by the United States to set up a pilot project to reduce the use of child labour.
The scheme will seek to boost access to education for children in three of Peru's poorest regions.
Parents will also get help in augmenting their incomes and crop yields, so that they no longer need their children to work.
According to the International Labour Organization, 28% of all girls and boys in Peru have to work for a living.
The government says that Peru's high child labour rate is putting the education of the next generation at risk.
On Wednesday, Peru's labour ministry launched the $13m (£8.3m) project which it says will improve access to education in rural areas.
US Ambassador to Lima Rose Likins welcomed the move.
"This pilot project will speed up the reduction of child labour, encouraging girls and boy to go, and stay, in school," she said.
Ms Likins said education was the key to breaking the vicious circle of poverty.
Project Director Maro Guerrero said Peru was not opposed to children working altogether, but their work should not interfere with their education.
"We believe that we need to look at the conditions under which adolescents work, making sure they do so with proper training, without exceeding working hours and never in dangerous activities," she said.