Trinidad leatherback turtle hatchlings crushed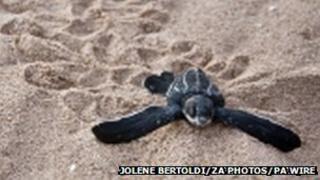 Thousands of leatherback turtle eggs and hatchlings have been crushed by bulldozers on Trinidad's northern coast, conservationists say.
Workers had been called in to redirect a river that was eroding Grande Riviere beach, in front of a hotel used by tourists to watch the turtles.
Environmentalists say workers botched the job and destroyed some 20,000 eggs.
The mile-long stretch of beach is regarded as a leading nesting sites for the biggest of all sea turtles.
Sherwin Reyz of the Grande Riviere Environmental Organisation said vultures and stray dogs ate many of the hatchlings whose shells had been crushed by the heavy machinery.
"They had a very good meal; I was near tears," he said.
The owner of the hotel who had asked the government to redirect the river because it was threatening his property and the rich turtle nesting areas in front of it also expressed his dismay.
"For some reason they dug up the far end of the beach, absolutely encroaching into the good nesting areas," hotelier Piero Guerrini told the Associated Press news agency.
The government has so far not commented on the claim.
Leatherbacks return to lay their eggs on the beach where they were born and Trinidad's northern coastline has some of the world's densest leatherback turtle nesting areas.