Mexico election candidate Lopez Obrador seeks recount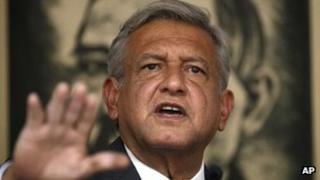 The runner-up in Sunday's presidential poll in Mexico has said he will demand a total recount of the vote.
"For the good of democracy and of the country, all the votes must be counted," Andres Manuel Lopez Obrador, of the leftist PRD, told reporters.
He had refused to concede victory after the official preliminary count gave Enrique Pena Nieto of the PRI victory by more than six points.
Mr Lopez Obrador has accused Mr Pena Nieto of breaking electoral rules.
Speaking on Tuesday, Mr Lopez Obrador, the candidate of the Party of the Democratic Revolution (PRD) said he had evidence of widespread irregularities.
"Where these things happen, there needs to be a recount of the votes. It is not asking for a favour; it is asking for the law to be fulfilled," he said.
He has said the process itself was neither fair nor clean, accusing Mr Pena Nieto's Institutional Revolutionary party (PRI) of spending more than their allotted electoral budget and condemning biased media coverage.
Some 50 million of Mexico's eligible voters cast their ballots.
Security
The initial official results show Mr Pena Nieto on 38.15% and Mr Lopez Obrador on 31.64%. The final official results were due on Sunday.
After losing the 2006 presidential election by a narrow margin to Felipe Calderon, Mr Lopez Obrador, a former mayor of Mexico City, launched street protests that lasted for several months.
Mr Pena Nieto, 45, declared himself the winner of Sunday's presidential election after a quick count.
He promised to govern "with and for all", saying he would "honour" the PRI's second chance with "a new style of governing".
The PRI governed Mexico for 71 years, but lost the presidency in 2000.
Mr Pena Nieto reiterated there would be no return to "old ways".
He also addressed Mexico's war on drugs, that has seen more than 55,000 deaths since Mr Calderon deployed troops against the gangs in late 2006.
Mr Pena Nieto said his administration would tackle organised crime and drug trafficking, but there would be a change of strategy and spending on security would increase.
Security efforts "must be married with strong economic reforms. You can't have security without stability," he said.
And other nations, particularly the United States, "must do more to curtail the demand for drugs".